Full-Service Material Supply
Landscaping and road materials are important for a variety of reasons. Crushed rock and gravel provide added traction on icy roads, helping to prevent accidents. Road salt helps to melt ice and keep roads clear.
In addition, these materials can help to improve the appearance of your home or business. A well-landscaped property can add curb appeal and increase its value.
Gravel and crushed rock can also be used to create walking paths, garden beds, and other features.
As a result, these materials play an essential role in both the function and aesthetics of your property.
We at VS Service understand the importance of having a reliable supplier of landscaping and road materials.
That's why we offer a full-service material supply service. We can deliver the materials you need directly to your door.
The specialty of our services is that we can source high-quality materials at the most competitive rates. The following is a list of some of the landscaping materials we can supply:
Crushed Rock
There are many reasons why you might need crushed rocks. It is likely that you are renovating a driveway and need to replace the old gravel.
Or, perhaps you would like to enhance your landscaping with decorative stone. Whatever the reason, crushed rock is an essential material for many construction and gardening projects.
Crushed rock is available in a variety of grades, from large boulders to small pebbles. The size and type of crushed rock you need will depend on your project. We offer clean rock sizes of 1, 2, and 3/4 inches.
AB3 and PEA Gravel
Gravel is one of the most versatile construction materials available. It can be used for a wide range of applications, from drainage to landscaping. In addition, gravel is easy to install and requires little maintenance.
However, not all gravel is created equal. PEA gravel, on the other hand, is a type of decorative stone that is often used in playgrounds, gardens, and walkways. It is small and smooth, and it comes in a variety of colors.
No matter what your project entails, there is a type of gravel that can help you get the job done. Both AB3 and PEA gravel are available at VS Service. We also offer you 2, 3-6 inch Dakota river rock that can enhance the look of your landscaping.
Road Salt
In the winter, road salts are a vital component for keeping roads and highways safe. By lowering the freezing point of water, road salt helps to prevent ice from forming on roadways.
This can make a big difference in areas where temperatures fluctuate between above and below freezing, as salt can help to melt any ice that forms overnight.
As a result, road salt plays an important role in keeping roads clear and safe for travel. In addition, road salt can also help to improve traction on slippery surfaces, making it easier for vehicles to gain traction and avoid accidents.
For these reasons, road salt is an essential part of winter driving safety. You can purchase road salt at VS Service.
Fill Dirt and Dust
For a variety of purposes, filling dirt and dust can be quite valuable. For example, fill dirt can be used to level out an uneven surface or to fill in low-lying areas.
Dust can also be used in a similar way, although it is often finer in particle size and can be more difficult to spread evenly.
In addition, both fill dirt and dust can be mixed with other materials to create a variety of new products, such as concrete and asphalt.
As a result, these seemingly worthless materials can actually have a significant impact on the world around us. If you require dirt or dust filling, we can expeditiously deliver it to you.
Warehousing Services
For business owners in Kansas, USA, warehousing services provide a much-needed solution for storing inventory and other items.
By using a warehouse, businesses can free up space in their own facilities, and they can also take advantage of the many benefits that warehouses offer.
Warehouses are typically large, climate-controlled buildings that are designed for storing a variety of items. They usually have high ceilings and wide loading docks to accommodate large trucks.
In addition, many warehouses have sophisticated security systems to protect stored items from theft or damage.
Therefore, warehousing services can provide business owners with a safe and secure place to keep stock and other items.
As a leading provider of warehousing services in Kansas, USA, VS Service has many years of experience. Among our specialties are:
Multiple Warehouse Locations
Our multiple warehouse locations throughout Kansas, USA, allow us to serve a wide range of industries.
We have 3 storage facilities with 200,000 square feet of inside storage and 63 acres of outdoor storage. So, whether you need a large space for storing inventory or a smaller space for office supplies, we can accommodate you.
Flexible Storage Options
One of the biggest benefits of using our warehousing services is the flexibility that we offer. We can store your items for as long as you need, and we offer a variety of storage options to meet your specific needs.
Both short and long-term storage options are available. This will give you the peace of mind of knowing that your items are being stored safely and securely without having to worry about them taking up space in your own facility.
Experienced and Professional Staff
When you store your items with us, you can rest assured, knowing that they are in good hands. Our staff is experienced and professional, and we take pride in providing excellent customer service.
In conjunction with you, we will ensure that your items are stored safely and securely. Having over 20 years of experience, our forklift operators will ensure that your items are stored correctly.
High-Speed Cross-docking
Cross-docking is a warehouse service that helps to increase efficiency and reduce costs. By unloading shipments from one truck and loading them onto another, cross-docking eliminates the need for storage and handling.
This can save time and money, as well as reduce the risk of damage to goods. In addition, cross-docking can help to improve customer service by ensuring that shipments are delivered more quickly. You can trust VS Service to provide high-quality cross-docking services.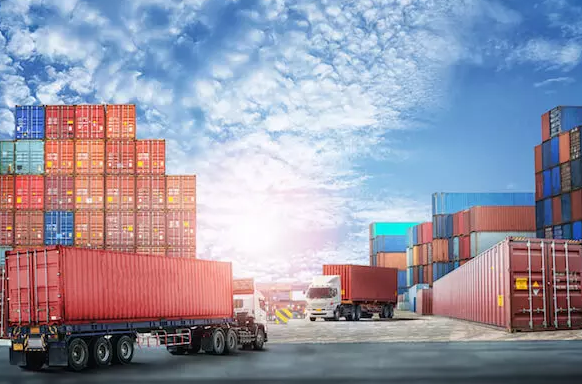 Competitive Pricing
Providing safe and quality warehousing services at competitive prices is our primary objective.
We understand that businesses need to save money wherever possible, and we are committed to providing quality services at a fair price. Contact us today to get a quote for our services.
Dump Truck Service
In addition to our warehousing and trucking services, we also offer dump truck service. This is a great option for businesses that need to dispose of large amounts of waste quickly and efficiently. Our dump trucks are available in a variety of sizes, and we can customize our services to meet your specific needs.
What Type of Hauling Services Do We Offer?
Both large commercial construction projects and small residential driveway projects have one thing in common, they both need hauling services to get rid of the debris.
Regardless of the size or scope of your project, we have the hauling services to suit your needs. Listed below are some of the services we provide:
Material Hauling
If you're working on a construction project, chances are you'll need to haul away materials at some point.
Usually, this is carried out at the end of the project when all that is left is debris and rubbish. We can haul away any type of material, including concrete, metal, wood, and more.
Construction Hauling
During construction projects, it is frequently necessary to dispose of construction materials and equipment. This includes things like concrete, bricks, machinery, and more. We have the experience and expertise necessary to safely and efficiently haul away your construction materials.
Demolition Hauling
Transporting demolition debris from a demolition site to a landfill or other disposal site is known as demolition hauling. This type of hauling requires specialized equipment and expertise, as the loads are often large and heavy.
The drivers at VS Service have the experience and equipment necessary to safely and efficiently haul away your demolition debris.
Why Choose Our Dump Truck Service?
After you've completed your construction project, the last thing you want to do is deal with the debris. Below are the top reasons to choose our dump truck service:
Late-Model Equipment
Our dump trucks are all late-model equipment, so you can be sure that they are in good condition and up to date. This will help to ensure that your project is completed on time and without any issues.
Experienced Drivers
Given the immense size and weight of a dump truck, it's unsurprising that inexperienced drivers often cause accidents. These large vehicles require a level of skill and experience that can only be gained through hours of practice.
Not only do experienced drivers know how to properly maneuver a dump truck, but they also know how to anticipate the actions of other drivers. This allows them to avoid accidents and keep the loads they're carrying safe.
The drivers at VS Service have the experience and expertise necessary to safely and efficiently operate our dump trucks.
Prompt and Reliable Service
At VS Service, we understand that time is of the essence when it comes to disposing of waste. That's why we offer prompt and reliable service.
We will work with you to determine a schedule that meets your needs, and we will do our best to stick to that schedule. You can count on us to be there when you need us.
Bonner Springs, Kansas, USA – The City of Attractions
Bonner Springs is a city in Wyandotte County, Kansas, United States. The city is part of the Kansas City metropolitan area.
There is considerable history and heritage associated with the city, which is home to a number of historical sites and attractions.
In 1812, the Francis and Cyprian Chouteau trading post was established near the present-day city. Eventually, the city was incorporated on November 10, 1898.
Area and Population
This town occupies an area of 15.99 square miles (41.42 km2), where 15.98 square miles (41.40 km2) are land and 0.36 square miles (0.93 km2) is water. As of the 2020 census, the city had a population of 7,837 people.
Popular Attractions
Peoples love to come to this city because of the various attractions it has to offer. You can find a number of historical sites, museums, and parks in Bonner Springs. The city also hosts a number of festivals and events throughout the year. Some of the most popular attractions in Bonner Springs include the following:
Wyandotte County Museum
The Wyandotte County Museum is an exciting attraction in Bonner Springs. This museum aims to preserve the history and culture of Wyandotte County in Kansas.
It contains a variety of exhibits on the county's history, including its Native American heritage, white settlement, and its role in the American Civil War. Visitors may also use the museum's research library.
Bonner Springs Aquatic Park
When you visit Bonner Springs, you should make sure to check out the city's aquatic park. This is a great place to cool off on a hot day.
The park has a number of pools, slides, and other water-based attractions. Both children and adults will enjoy spending time at the Bonner Springs Aquatic Park.
National Agricultural Center and Hall of Fame
If you're interested in learning about the history of agriculture in the United States, you should visit the National Agricultural Center and Hall of Fame.
This attraction tells the story of American agriculture from its early days to the present. It also honors individuals who have made significant contributions to the field of agriculture.
Sunflower Hills Golf Course
You should definitely check out Sunflower Hills Golf Course if you are a golf enthusiast. It is one of the best courses in the region, offering challenges for golfers of all skill levels.
In May 1977, this golf course was opened and continued to draw golfers from all over the country. There is an 18-hole course, which is situated within a scenic valley with rolling hills.
Kansas City Renaissance Festival
Every year, the Kansas City Renaissance Festival attracts thousands of visitors to Bonner Springs. This festival is held in 6 September to 11 October. It is a great event for the whole family, with a variety of entertainment options and activities.
Bonner Springs Farmers Market
The Bonner Springs Farmers Market is a community gathering place where locals can find fresh, seasonal produce and other handmade goods. The market is open from May to October on Saturday from 8 am to 12 pm.
You'll find a variety of fruits, vegetables, meats, baked goods, and more. So, when you're in Bonner Springs, make sure to stop by the farmers' market.
As you can see, Bonner Springs is a city with a lot to offer. Whether you're interested in history, outdoor recreation, or simply want to enjoy a festive atmosphere, you'll find what you're looking for in Bonner Springs.