Dump-Truck Services
There are many reasons why you might need dump-truck services. Dump trucks are large, heavy-duty vehicles that are used to transport materials such as dirt, sand, gravel, and debris.
They have an open-bed design with a hydraulically operated dumping mechanism that allows them to quickly and easily unload their contents. Dump trucks come in a variety of sizes and can be either rear- or front-loading.
Rear-loading dump trucks have a dumping mechanism at the rear of the truck, while front-loading dump trucks have a dumping mechanism at the front.
There are many benefits to using dump-truck services. Dump trucks can transport large loads, so they're perfect for disposing of large amounts of debris.
They're also very versatile and can be used for a variety of purposes, such as hauling away construction materials or delivering dirt, sand, and gravel to a job site.
Perhaps you're renovating your home or office and need to dispose of the debris, or maybe you've just completed a construction project and need to haul away the rubble.
Whatever the reason, VS Services is here to help. We have a fleet of dump trucks that can handle any job. Our services are available to both commercial and residential clients, so everyone can make use of them.
We also have a team of experienced drivers who are familiar with the Kansas area and can get your job done quickly and efficiently.
Our fleet of trucks includes Dump trucks, Dump trailers, Tandem, Tri-Axle, Quad, Quint, Material trailers, Barrel bed trailers, Walking floor trailers, Demo trailers, and Refuse ejector trailers.
Additionally, we handle hauling projects for the commercial and residential sectors.
We know that time is important to you, so we'll work quickly and efficiently to get the job done. And because we're based in Kansas, we can offer our services to clients anywhere in the state. Our hauling services include:
Material Hauling
We can haul away any type of material that you may have. This will help you clear up any unwanted items quickly, so you can focus on more important things.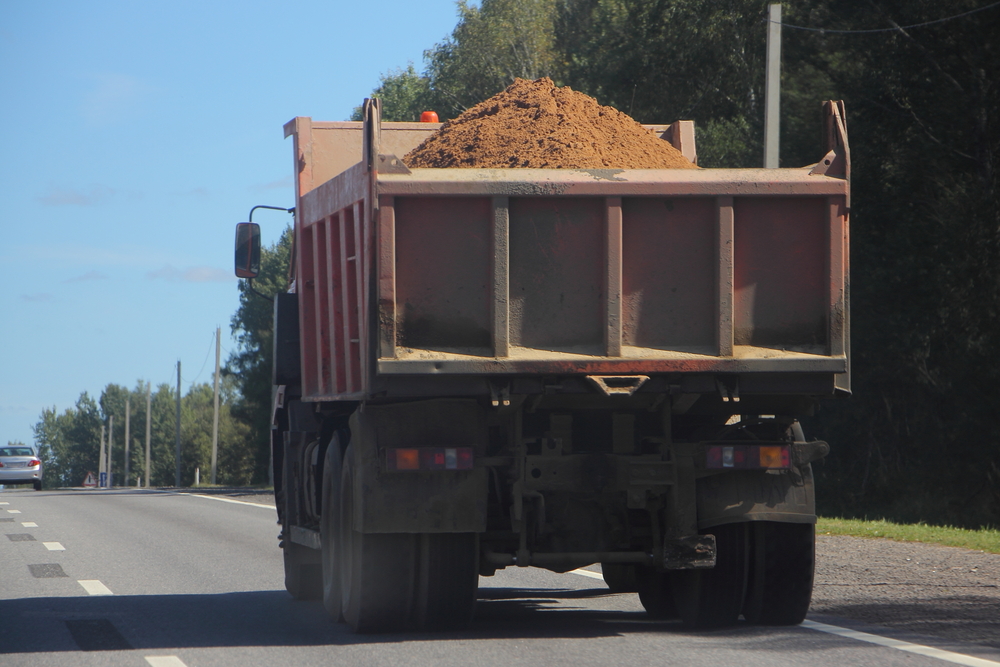 Construction Hauling
Construction hauling is the transportation of construction materials to and from a construction site. This can include dirt, sand, gravel, lumber, and other materials.
Demolition Hauling
The demolition hauling is the transportation of debris from a demolition site. This can include concrete, bricks, metal, and other materials.
Road Work
We can assist with the transportation of materials for road work projects. This can include asphalt, concrete, and other materials.

Snow Removal
We offer snow removal services for both commercial and residential clients. Our equipment and experience enable us to handle any sized project.
If you're interested in our dump-truck services, or if you have any questions, please contact us. We'll be happy to provide you with a free quote and answer any of your questions.
Supplying Landscaping Materials
Landscaping materials are a necessary part of any landscaping project. They help to create a foundation for your landscaping design and add texture and color to your yard. There are many different types of landscaping materials available, each with its own unique benefits.
VS Services is a leading provider of landscaping materials in Kansas. We carry a wide variety of landscaping materials, including:
Crushed Rocks
The crushed rock is an essential component of any landscaping project. It can be used to create a foundation, fill in spaces, and add drainage.
Furthermore, crushed rock is highly versatile and can be utilized for a wide range of purposes. For road construction projects, it can be used as a base material. It can also be used to create paths, walkways, and driveways.
Gravel
The gravel is a type of rock that is similar to crushed rock. It's often used in landscaping projects for its aesthetic appeal. Gravel comes in a variety of colors and sizes, so it's easy to find the perfect gravel for your project.

It's also easy to install and can be used for a variety of purposes. There are many different types of gravel, including AB3 gravel, pea gravel, and jersey shore gravel.
AB3 gravel
The AB3 gravel is used for road construction projects. Generally, this is a highly versatile type of gravel, suited for a range of applications. Due to its smooth texture and a wide variety of colors, pea gravel is commonly used in landscaping applications.
Jersey shore gravel
Jersey shore gravel is a type of gravel that is mostly used for driveways. It's made from crushed limestone and is very durable.
Sand
The sand is a type of finely ground rock that's often used in construction projects. It can be used as a filler material or as a base for pavers, bricks, and other materials. Sand is also a popular choice for landscaping projects.
It can be used to create walkways, patios, and driveways. It's also often used as a base material for pools and spas. There are many different types of sand, including white sand, beach sand, and playground sand.
Road Salt
The road salt is a type of rock salt that's often used to de-ice roads in the winter.
It's a necessary product for many businesses, including snow removal companies, road crews, and municipalities. Road salt is also used by many homeowners to de-ice their driveways and sidewalks.
We can help you choose the right landscaping materials for your project. Our knowledgeable staff can assist you in selecting the best products for your landscaping project.
You can take advantage of our fast delivery services in Kansas to begin your project immediately. Contact us today to learn more about our landscaping materials and services.
Our Contribution to Warehousing Services
Warehousing is an essential part of the supply chain, as it allows businesses to store goods until they are ready to be shipped. Warehouses provide a safe and secure place for businesses to keep their products, and they can help to reduce inventory costs.
VS Services offers a complete range of warehousing services, so we can help you to store and manage your goods. In addition, our warehouses are equipped with the latest technology to ensure your goods are safe and secure, and we have a team of experienced staff who can provide advice and support.
We have forklift operators at our company who have over 20 years of experience and have mastered the use of these machines.
In total, we have three facilities with approximately 200,000 square feet of inside storage space. We also have 63 acres of outdoor storage space. This allows us to store a wide range of goods. Our trans-loading solutions are the most effective in the market.
Trans-loading is the process of transferring goods from one mode of transportation to another. For example, if you need to transport goods from a warehouse to a truck, you would use trans-loading services.
It eliminates the need to unload and reload your goods, thus saving you time and money. We offer trans-loading services at our warehouses, so we can help you to save time and money.
 The Typical Commodities Trans-Loaded Are:
Palletized Freight
Loose Freight
HHG
Vehicles
RVs
Boats
Machinery
Steel
Lumber
Paper
Pulp
Fiber
Baled Cargo
Out of Gauge
Industrial
Overweight
Flatracks
Dry Van
Intermodal
Dunnage and Crate Disposal
The Industrial, Overweight, Or Out Of Gauge Cargo are:
Beverages, including water, sodas, liquor, and beer
Agricultural products
Lumber
Solar Panels and Parts
Dry foodstuff, including canned goods
Flooring products, including tiles, laminates, and wood flooring
PET rolls and resin
Paper products
Cotton Bales
Machinery
Steel or Aluminum bars, beams, and heavy machinery
Consumer Goods:
Furniture
Gifts and Toys
Consumer Electronics
Fashion, Clothing, and Apparel
Shoes
Self-Propelled Cargo:
Automobiles
Motorcycles
Buses
Motor homes
Tractors
Farm Equipment
Overall, our warehousing services are designed to provide you with a complete solution for storing and managing your goods.
So, if you are looking for a reliable and experienced partner to help you with your warehousing needs, look no further than VS Services. Our goal is to provide you with the best possible service and to exceed your expectations.
For more information about our services or if you have any questions, please do not hesitate to contact us. We look forward to hearing from you soon. Your satisfaction is our top priority.

Quality Excavation Services You Can Trust in Mission, Kansas
As the foundation of any successful construction endeavor, excavation sets the stage for the entire project. For this reason, you can rely on VS Services, this city's leading excavation company.
With years of experience and a commitment to safety, quality, and efficiency, we have the expertise and equipment to handle any excavation project easily in Mission.
Let's discover the wide range of excavation projects we can handle in Mission and understand why choosing us is worthwhile.
What Types of Excavation Projects Can We Handle in Mission?
You'll be pleased to know that we can handle various excavation projects in Mission. Here's a quick overview:
Building Foundations
Parking Lots
Retention Ponds
Site Preparation
Industrial Facilities and Truck Terminals
Let's discuss this in more detail.
1. Building Foundations
At VS Services, we specialize in excavating building foundations. With our excavation experience, we can provide a solid and stable building foundation based on soil conditions and load-bearing requirements.
We understand the importance of a strong foundation, as it's the backbone of any structure. Our team carefully surveys the site to determine the necessary depth and dimensions required for each unique project.
2. Parking Lots
If you need a parking lot excavation project, our team at VS Services can handle it with expertise and precision.
Our dedication to safety, quality, and efficiency means we take every necessary precaution when excavating, ensuring efficient drainage systems and smooth surfaces for easy navigation.
3. Retention Ponds
VS Services knows how important proper excavation is for retention ponds. Our team has the knowledge and tools to ensure proper slope, size, and depth for effective retention ponds.
We're committed to safety, quality, and efficiency in all excavation projects, especially those involving retention ponds.
With our team, you'll get a functional and aesthetically pleasing natural oasis that meets all excavation requirements.
4. Site Preparation
Proper site preparation also helps prevent any issues such as drainage problems or uneven settling of structures. As VS Services' Mission site preparation services are high-quality, safe, and efficient, you can rest assured that we'll do a great job.
5. Industrial Facilities and Truck Terminals
You need equipment and expertise for large-scale excavation for your industrial facility or truck terminal, and we've got both.
We use the latest equipment and techniques to perform foundation excavation, grading, and site development. This ensures that your project is completed on time and within budget.
From start to finish, our team will work diligently to ensure your satisfaction with our work. Trust us for all your excavation needs in Mission.
How Do We Ensure the Safety and Quality of Excavation Projects?
We utilize advanced equipment and technology and conduct thorough site assessments to identify potential hazards. Our experienced personnel adhere strictly to safety protocols and industry standards.
They pay meticulous attention to detail while executing precise and efficient excavation work.  To deliver high-quality results, we follow local building codes and regulations.
How Do We Manage Excavation Projects Efficiently and on Schedule?
At VS Services, our proven approach to managing excavation projects involves a detailed and comprehensive planning process.
Resource allocation, task scheduling, and communication with clients and subcontractors are key to our success.
Our experienced team of project managers is adept at proactively identifying and addressing potential issues to ensure projects stay on schedule.
We are dedicated to meeting or exceeding our client's expectations and pride ourselves on completing projects efficiently and on time.
With our expertise in project management, we have a track record of success in completing challenging excavation projects to the satisfaction of our clients.
Choose VS Services for Quality Excavation Services in Mission
So, if you're looking for excavation excellence in Mission, let VS Services handle it. From residential foundation digging to large-scale commercial site preparation, we've got the expertise and equipment you need.
At VS Services, safety and quality are our top priorities. We take great care to ensure that all of our excavation work is done in accordance with industry standards and regulations.
Our team is well-versed in proper safety procedures, and we regularly inspect our equipment to ensure it functions at peak performance. You can trust VS Services for your next Mission excavation project.
VS Services, LLC: Top Quality Paving Services in Mission
A well-built paving is the foundation of a smooth and aesthetically pleasing infrastructure, and a reputable company is essential to ensure the success of your paving project.
As a paving company in Mission, VS Services, LLC has extensive experience and great success. Having consistently delivered exceptional results and exceeding customer expectations, we have established ourselves as a trusted name in the industry.
With our skilled contractors, the latest machinery and equipment, and a dedication to customer gratification, we are the go-to source for all your paving needs.
What Types of Paving Services Do We Offer?
Here is a list of the paving services we provide:
Asphalt Paving
Concrete Paving
Parking Lot Paving
Driveways
Roads
1. Asphalt Paving
A variety of asphalt paving services are available from us. Our expert contractors are highly skilled in laying down smooth, durable, and aesthetically pleasing asphalt surfaces.
Our top-of-the-line materials and equipment ensure that your newly paved surface will remain in good condition for a long time. We help with everything from new asphalt pavement to repairs and maintenance of existing surfaces.
Depending on your project requirements, we can customize our asphalt paving services to meet your needs. Whether you need a new parking lot, a road, or an updated driveway, our contractors can do it quickly and on budget.
We also ensure that our services are environmentally friendly and take all appropriate precautions to minimize any environmental impacts from paving work.
2. Concrete Paving
Besides asphalt paving, we also offer elite concrete paving services. Our workers are well-trained in handling concrete paving projects of any size.
Concrete paving services are custom-tailored to meet your needs, whether it's a parking lot, sidewalk, or foundation for a building.
Our experienced contractors take pride in their craft and ensure that every job is done to the highest standards.
We prioritize using the latest techniques to ensure that your concrete surface stays strong and lasts long, even in the harshest weather conditions.
3. Parking Lot Paving
We understand the importance of well-designed and properly paved parking lots for businesses and organizations.
Our parking lot paving services encompass constructing, repairing, and maintaining parking lots for various purposes, including commercial, industrial, and residential properties.
With our expertise, we can create efficient, safe, and visually appealing parking lots that meet your specific needs and requirements.
From layout design to surface preparation and installation, our team ensures that every aspect of the project is handled with professionalism and attention to detail.
4. Driveways
We offer comprehensive driveway paving services tailored to your preferences and needs. Whatever you choose, we can deliver a durable and visually appealing driveway that enhances the overall aesthetic of your house.
Our driveway paving services include everything from site preparation to finishing, ensuring a smooth and efficient process from start to finish.
5. Roads
We are equipped to handle road paving projects of any size. Public roadways require robust and reliable paving solutions to withstand heavy traffic and various weather conditions.
Our team prioritizes safety, durability, and adherence to industry standards to ensure the longevity and quality of the road surfaces we create.
Experience Top-Quality Paving Services in Mission with VS Services, LLC
So, when you need paving services in Mission, you can rely on VS Services, LLC. With years of experience and a proven track record of delivering exceptional results, we have become a reputable name for our services.
Our skilled contractors, state-of-the-art machinery and equipment, and dedication to customer service set us apart from the competition.
Contact us today and let us transform your infrastructure with our reliable, high-quality paving services.
About Mission, KS, USA
Mission is a beautiful town located in northeastern Johnson County and is part of the Kansas City Metropolitan Area. This city is known for its vibrant business district, excellent schools, and numerous community events. Mission has a rich history, with many historic buildings and homes.
History of Mission, KS, USA
The area now known as Mission was established in 1829 as Shawnee Indian Mission. This small settlement later became Mission Station, which eventually grew into a town. In the late 1800s and early 1900s, Mission experienced a period of rapid growth as its population increased and new businesses were established in the area.
Population, Climate, and Weather
The population of Mission, KS, USA, is around 9,954 people, according to the 2020 census. This city is growing rapidly and is home to a diverse range of residents.
The economy of Mission, KS, USA, is thriving. The city has a number of excellent businesses, and the schools are excellent as well. This makes Mission a great place to live and work.
There are many community events held in Mission throughout the year, which bring people together and help to strengthen the community.
Mission has a warm climate with plenty of sunshine year-round. The weather is generally mild, with average temperatures in the winter ranging from 21 to 26 degrees Fahrenheit and in the summer from 66 to 71 degrees Fahrenheit.
Points of Interest in Mission, KS, USA
There are many things to see and do in Mission, KS, USA. The city has a variety of shops, restaurants, and businesses. Additionally, there are a number of parks and recreation areas.
Among them is Shawnee Mission Park, a 1,655-acre piece of natural splendor. This park features hiking trails, a lake, a playground, and much more.
Another popular spot is Merriam Historic Plaza, which is home to many historic buildings and landmarks.
Some of the notable structures in this area include the Merriam Theatre and the Merriam-Webster building. Consequently, these buildings are excellent examples of historical architecture and are a must-see for anyone visiting Mission.
Antioch Park is another great place to visit, especially if you have kids. This park has a waterpark, playgrounds, picnic areas, and more.
In addition, there are several museums in Mission worth checking out, including the Shawnee Indian Mission State Historic Site, which tells the story of the city's history, and the Johnson County Museum, which has exhibits on local history and culture.
Whether you are visiting or looking to move to Mission, there are plenty of reasons why this city is a great place to live.
It has excellent schools, an active business community, and numerous parks and recreation areas that appeal to people of all ages. Whether you are looking for work, entertainment, or a place to live, Mission is sure to meet your needs.